Thanks for joining us on this blog hop today! Spellbinder's has a variety of monthly subscriptions over at their store, so if you want to see all of them, please go check it out!
Also, follow along with the list of links at the end of this post to see all the fabulous ideas for November's kits.
This month's small die kit is this adorable little snowman and accessories. There are two different styles of snowman- one looking forward and one looking up. You might remember my previous card with this kit…
Too cute! I wanted to feature the other little snowman so I threw together this card with the smal die pieces and some leftover cardmaking ephemera from the Christmas Wishes card kit.
Cut Your Snowman Pieces
Go ahead and cut out all the pieces for your snowman using the kit! I have a video from my last card showing how all the pieces go together, take a look if you want to see me break down all the little dies!
November Small Die and Glimmer Kit
Create A Background
To create a background for this card, I used some patterned paper that I had leftover from the Christmas Wishes card kit that I created with previously. These card kits have so many goodies packed in that you will be able to use them on SO. MANY. PROJECTS!
I added a die cut oval to the front of my patterned paper. The dies I used were from Becca Feeken's Candlewick Classics collection. These cut out the ovals and adds the fun detail around the sides.
Arrange and Assemble
With all my pieces ready to go, I just had to assemble them all. I added the snowman and his accessories over the Candlewick oval, and then added a sentiment and some glittery star stickers from the Christmas Wishes card kit. Super easy, and super cute!
I hope you enjoyed a look at the small die kit for November!
***GIVEAWAY!***
To celebrate this release, we are giving away a $50 gift certificate to 5 lucky blog readers – selected from the comments on the Spellbinders blog. Giveaway closes on Sunday, November 15th, 11:59 pm EDT. The winner will be announced in the blog hop post the following Tuesday. The winner is responsible for shipping cost, duties and taxes.
Please note, store credit (gift certificate) cannot be applied to Club Subscriptions. Store credit can be applied to shop past Club products, Club extras and regular releases.
Remember to keep hopping along! SCROLL DOWN FOR THE COMPLETE HOP LIST.
Until next time,
Marie Nicole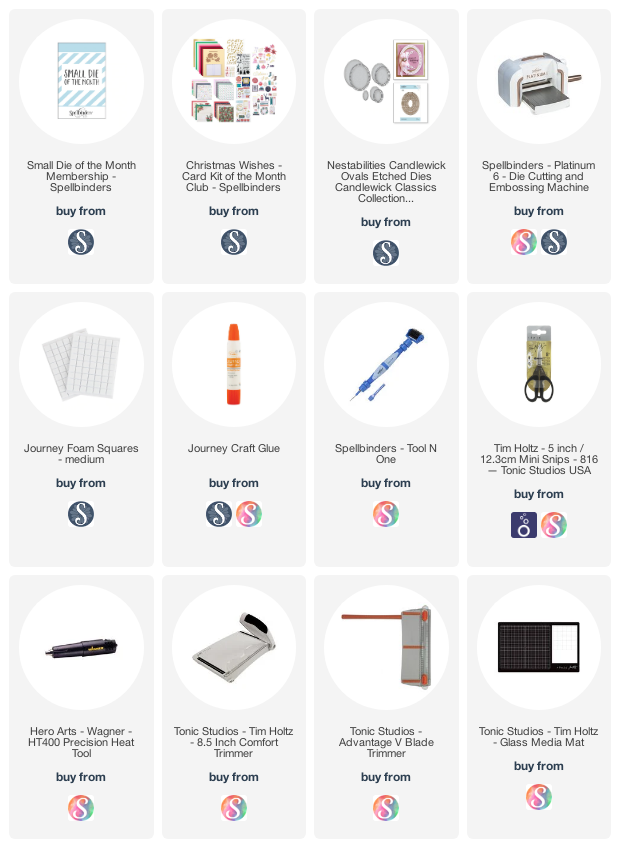 KEEP HOPPING! 
Marie Heiderscheit <—- YOU ARE HERE